Quick Facts of Abigail Perlman
Full Name

Abigail Perlman

Nickname

Abby

Marital Status

Married

Birthplace

United States of America

Ethnicity

White

Profession

Lobbyist

Nationality

American

Eye colour

Brown

Hair colour

Blonde

Spouse

Roy Blunt

Height

5ft 4inc

Children

1
Abigail Perlman Blunt is the wife of senior United States Senator Roy Blunt.  Blunt previously worked as a member of the United States of House of Representatives and as Missouri Secretary of State. While, on the other hand, Abigail is a lobbyist for a famous tobacco company.
Abigail Perlman Blunt rose to stardom after marrying Roy. Also, the couple has adopted a son together. Ton know more about Abigail, read the whole article.
Married Life and Children
Abigail Perlman is happily married for fifteen years with her Senator husband Roy Blunt. The couple briefly dated before tying the knots in the October of 2003. At the time of their wedding, Abigail was 41 and Senator Roy Blunt was 53. The wedding was a second wedding for the senator who was previously married to Roseann Ray for 36 years before their divorce in 2003. Abigail and Senator Roy blunt have a son, Charlie.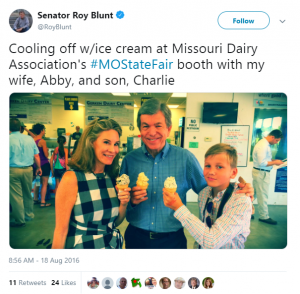 Charlie is the couple's adoptive son. They adopted him from Russia when he was 18 months old. Charlie goes to a private school in Washington D.C. Think of a relationship between a law-maker and an advocate to influence the decisions of a lawmaker, must be full of tension, right? But, the couple proved it to be wrong and are supportive of each other in their private as well as their professional life.
Former Relationships
There are no mentions or rumors about Abigail's past affairs and relationships. But, her husband Senator Roy Blunt was married to Roseann Ray. He married Roseann Ray for 36 years and they shared 3 children and six grandchildren. Whatsoever, the reason for their divorce is not disclosed.
Abigail is step-mother to Matt Blunt, Andrew Blunt, and Amy Blunt. Their son, Andrew Blunt is a state-level lobbyist and works as a political consultant in Missouri while Matt Blunt was the former governor of Missouri.
Controversies
In the past Senator Roy was accused by Commonsense Ten of "secretly" adding provisions for the benefit of the company Philip Morris after it's executive gave Roy Blunt $30,000. The allegations arose in the year 2003, and Abigail was a lobbyist for the company. Also, at the time Abigail and Senator Roy Blunt were still dating.
Also Read: Michael Armand Hammer
Net Worth
Abigail has been involved in the profession of a lobbyist since before 2003. In her years-long career, she must have earned a huge amount of money. Although her net worth has not been mentioned to the public yet, her estimated net worth is $200,000.  Moreover, her husband Roy Blunt himself holds the net worth of $4.1million. According to indeed.com, the average salary of a lobbyist range from $46,000-$ 75,000.
So, Abigail probably earns more than or equal to the above-mentioned salary. Abigail and her husband mostly, live in their Washington house worth around $500,000. But, as her husband is the Senator of Missouri they also own a condominium worth $200,000 on John Q Hammons Parkway in Springfield, Missouri.
Also Read: Sharon Lee
Career as a Lobbyist
Abigail Perlman Blunt is a lobbyist for Altria Group. It is one of the world's largest producers and marketers for tobacco and related products that produce Marlboro cigarettes, John Middleton, Inc, UST Inc, and many other such companies.
As a wife of someone in the politics, Abigail agreed not to lobby anyone in the Congress. According to the Blunt family, they've taken "serious measures to prevent conflicts of interest". Abigail's husband agreed not to be involved in anything that might affect Altria.
Moreover, Mrs. Blunt also lobbies for Kraft Food Groups. She got the position in the top 50 lobbyists out of 10,000 lobbyists. Kraft Food Group is the largest packaged food and beverage company in North America. It is the parent company for famous companies like Capri Sun, Jell-O, Kraft, and many others. So, it seems Abigail Perlman Blunt has had a great career as a lobbyist of such famous companies.