People face several ups and downs in their relationship. The same is in the case of Jena Frumes and his ex-girlfriend Antonio Brown. According to the recent social media post of Antonio, he is back with his ex-girlfriend.
This information came as a shock to everyone including Jena as she found out about her break up from the social media post. So, what happened between them? You've come to the right place to find the reason for the couple's heart-wrenching break-up.
Jena Frumes' Relationship With Antonio Brown
The Instagram model created quite a buzz in the media when she started dating Antonio Brown. Antonio is an NFL wide receiver who plays for Oakland Raiders and is very successful. However, any details about how they started their relationship are not revealed yet.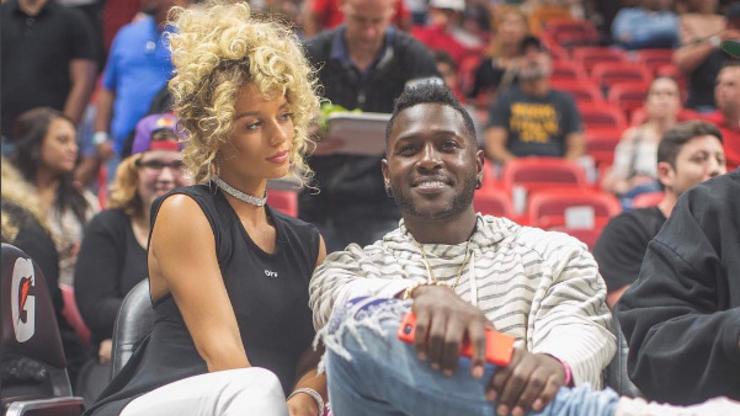 But Jena was hurt when she found out Antonio started dating his ex-girlfriend after dumping her. Antonio mentioned his relationship with Jena ended after his ex Chelsie Kyriss got pregnant. Brown has three kids with Chelsie and two more from his previous relationship with Shameika Brailsford. 
According to Antonio Brown, " God has told him to return to the mother of his child."
This news was sure to get Jena angry and she posted Antonio's phone number on her Instagram account. Jena wrote to her followers to message Antonio to return Jena's all belongings.
Jena Frumes' Relationship With Jesse Lingard…
Following the nasty break up with Antonio, Jena Frumes was romantically linked with Manchester United Mid-Fielder Jesse Lingard. Man Utd was in the US tour during the 2017-18 season and the couple met each other for the first time.
"They've been on some dates, but I don't know if it's serious between them yet. She lives in LA and he's in Manchester so it's hard for them."
The first rumor about the Red Devil star and Instagram model leaked after she was spotted during the match between Manchester United and Everton. Jena posted pictures supporting her boyfriend and was also seen celebrating the birthday together. Jesse has not talked much about their relationship but during his birthday the pair spent the quality time together.
Jena Frumes and Jesse Lingard traveled to Barcelona in a romantic gateway but soon after Jena dumped him. According to Jena's Tweet, she ended the relationship with Jesse and wished him all the best for his future. She wrote,
"At least I can say I tried plus enjoyed the ride. Wish you the best. I love Jesse to death but sometimes the timing is just off."
But according to some news, the reason for their break up came after Jesse cheated on her after the Manchester derby. There is no confirmation about this news as Jena has not talked anything about it.
Her Past Relationship and Rumors
Besides her relationship with Antonio Brown and Jesse Lingard, Jena Frumes also dated few other men. Her first relationship was with Nick Cannon who is an actor. Furthermore, Jena was also linked with Matt Barnes but both of them have not talked anything about their rumor.
Besides this, Jena never became part of any rumors and controversies. Currently, she is single and looking for the right guy to spend her life with.