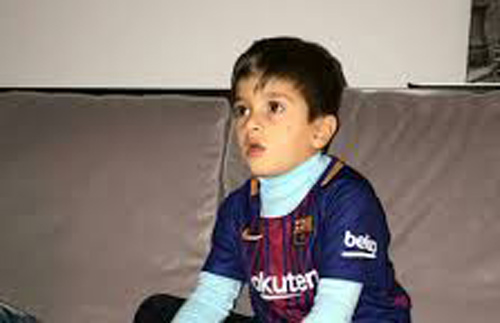 Quick Facts of Thiago Messi Roccuzzo
| | |
| --- | --- |
| Full Name | Thiago Messi Roccuzzo |
| Date of Birth | 2012 /11 /02 |
| Birthplace | Barcelona, Spain |
| Profession | Celebrity Kid |
| Nationality | Spanish |
| Eye colour | Brown |
| Hair colour | Brown |
| Online Presence | Instagram |
| Horoscope | Scorpio |
Last Updated on
Who doesn't know about Lionel Messi? In the world, he is the best soccer player which we don't have to mention. But, today we are going to talk about Messi's son, Thiago Messi Roccuzzo who just turned 6.
Here is the question people are asking about; Will Thiago be a famous footballer just like his father? Maybe not, as Messi has claimed that his son is not much interested in playing soccer. So, what is his interest? Well if you want to have an answer to this question and many more interesting facts about Thiago then keep on reading the article.
Thiago Messi Roccuzzo's Bio
Thiago Messi Roccuzzo was born on Nov 2, 2012, in Barcelona, Spain with the sun sign Scorpio. We know Thiago because of his greatest father, Lionel Messi. He grew with high-class and renowned family while his mother, Antonella Roccuzzo is also a famous model. People also believe that his mother is a supportive wife.
Also Read: Jocelyn Chew Age, Height, Parents, Bio & Net Worth
Additionally, Thiago is the eldest son of Messi and has two little brothers, Mateo Messi Roccuzzo and Ciro Messi Roccuzzo. He loves both of his brothers and they play with him.
Thiago Messi Roccuzzo's Personal Life
Let's talk about Thiago's likes and dislikes and other things that Messi has disclosed. 
Lionel Messi told his two sons Thiago and Mateo could not have more different personalities, describing his youngest Mateo as "terrible". He even described Thiago is not as football crazy as his friend Benjamin Suarez, son Luis Suarez.
The professional footballer is a loving father to his six-year-old son, Thiago and three-year-old son, Mateo and has told about the difference of their characters in an interview with Argentine TV network TYC Sports.
Leo jokingly said that "Mateo… terrible. Mateo is a character. They're very different. Thiago Messi is a phenomenon, really good and the other hand the exact opposite: a son of a b—-. Mateo is terrible. It's really good seeing how dissimilar they are. Mateo does play a bit of soccer, right-footed. He's more coordinated. He hits it properly but he's small."
Additionally, Messi also said that Thiago like football but just a bit and get tired. Messi loves his children and most of the time we see him with Thiago.
Thiago Messi Roccuzzo's Body Measurement (Height)
Thiago body measurement is unknown. He is still on his growing phase. But he has a cute charming face with brown eyes and brown hair.
Messi stands with a height of 5 feet 5 inch so will his son Thiago will get taller than his father?
Thiago Messi Roccuzzo's Salary & Net Worth 
Thiago Messi is still very young and is searching for his ability and best career. Thus, he fully depends on his parents for now. And, as of 2019, Messi has estimated net worth is around $400 million as well as Thiago's mother Antonella Roccuzzo who is a famous model has an estimated net worth around $20 million. 
Also Read: Mark Ronson Bio, Wiki, Net Worth, Height, Married, Wife & Siblings
Hence, there is no doubt they are living a lavish and happy life.