They say falling in love is easy but staying in love is rare. Love gives a very giddy feeling, butterfly in the belly and a smile on the face for no reason. You guys might have an experience that feeling in one way or the other right? Be it with someone special with family or friends. Love always makes us content. But do you know what it feels like when your heart is broken into pieces and you can do nothing about it?
Here today we brought you the article about a popular star and his love life. The star is none other than Narvel Blackstock. If you wanna know all about his dating life then we suggest you read the further article.
Narvel Blackstock Failed Marriage with Elisa Gayle Ritter
When Narvel and Elisa met, they were only teens. The pair were so in love with each other that, even if they were not even 18 years of age, they decided to get married. On 30 March 1973, they tied a knot when they were just 17 years old. Both of their young age made it very difficult for them to sustain their livelihood.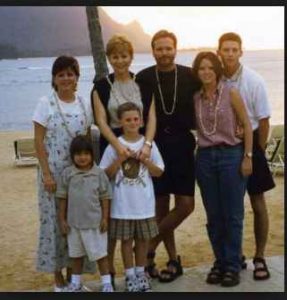 Despite all the odds and difficulties, they gave birth to three children, 2 daughters, and one son. Shawna Rene Blackstock born in 1973 and Chassidy Celeste Blackstock born in 1978) and a son named Brandon Blackstock born on 16 December 1976. The pair began to have disagreements after having been in a marriage partner for 15 years. The former couple doesn't have bad blood as they have already moved on with some other partner.
Also Read: Doug Dunne and Jill Bauer Married Life – Children, & Family
Narvel Blackstock's Relationship with Reba McEntire
Just like some other Hollywood celebrities, Narvel Blackstock also has a really complicated love life. After Elisa Gayle Narvel found his love interest in the form of Reba McEntire 1980. The 80's couple met while working in a band. Blackstock began working with the American country music singer, Reba, when he was the steel guitar player in her band. Later, the friendship turned into a full-fledged romance. The couple dated for few years and in 1989 they tied a knot during a private ceremony in Lake Tahoe.
Image: Narvel Blackstock with his former wife Reba McEntire
In February 1990, the pair welcomed their first son, Shelby Blackstock who is now a successful Indy car racer. But Narvel's former wife Reba McEntire was surprised all her fans when she announced on 3 August 2015 that they were breaking up of 26 years of marriage. Their divorce was settled a few months later in October 2015.
Also Read: CNN Reporter Dianne Gallagher Net Worth & Salary. Know about her Career
Want to know Narvel Blackstock's current Dating life?
After the second heartbreak, Narvel found a calming shoulder in the form of Laura Putty Stroud. The couple is just dating as of now and is not planning to exchange the wedding vows anytime soon. Laura works as a broker and she is also a very good friend of Narvel's former wife Reba. As per some of the source, Narvel and Laura are very serious regarding their relationship.
To get access to more of Narvel go through his instagram