If you are familiar with the Golden State Warriors basketball superstar, Stephen Curry then you might also be familiar with his family. Riley Elizabeth Curry is the eldest daughter of Stephen Curry born on July 19, 2012. Elizabeth Curry has a fantastic career even she is just six years old as of now.
Riley, the cute little princess has walked through the hearts of Americans basketball lovers. She rose to fame when she started sharing screens with her daddy in the post-game press conferences. So, let's unfold the further information about the little star Riley Elizabeth Curry.
Riley Elizabeth Curry's Bio, Age, and Personal Life
Riley Curry was born on July 19, 2012, in Charlotte, North Carolina. She was born into a family of athletes; her father, aunt, uncle all are either former or current NBA players. She is now six years old and will turn seven in the coming July 19, 2019.
Riley Elizabeth was born to a professional NBA player, Stephen Curry and mother Ayesha Disa Curry, a TV personality, a model, an actress, celebrity chef and also an author of a cookbook. She belongs to Afro-American descent from her father's side whereas she is half Afro-Jamaican, Chinese-Jamaican, mixed Polish and African-American from her mother's side.
On her 5th birthday, her mother arranged a unicorn themed party for her. All completed with unicorn decorations and also a unicorn-themed tea party area.
Riley's Journey To Stardom
Riley Elizabeth rose to stardom when she made an entrance on the stage during her father's post-game conference on May 19, 2019, when she was just two years old. The little girl has stolen the hearts of fans all over the world demanding to sit on her father's lap.
Cute little Riley asked her father to "be quiet" while giving answers with sweet giggles, stole the charm of her father on the camera. All the cameras were then focused on her as she continued to wave to the journalists. The princess then took the microphone and started speaking and running under the table. The NBA player uploaded his daughter's cute video of disturbing the press and the video garnered over 3 million views.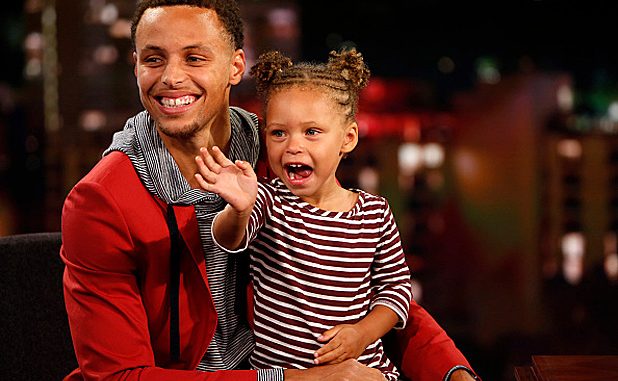 After a few days later, when Stephen won the MVP award for the second time, Riley entered the stage with her adorable looks. And this time she didn't came to ask her father to be quiet but wanted to sing a song for the journalist. Further, she grabbed a microphone and continued to sing 'Blessings' by Big Sean featuring Drake in front of the journalist. Stephen Curry again shared the video of his daughter and in no time, it gained more than $2.5 million views.
All the game fans were now aware of Riley's cute disturbing ability and in a wait to see another fun conference featuring Riley. Within a few days, 500,000 people tweeted about Riley's appearance on stage. On the other hand, the moments were also made into memes and GIF's. It has now become a regular thing for fans to expect a little girl on stage when the victory is in the favor of Warriors.
Know About Riley's Family and Siblings
Riley's family is rated as the most popular family in American Basketball. She has a family full of athletes as her grandfather Dell and uncle Seth also made their markings in the field of basketball. She lives in a large family with eight members.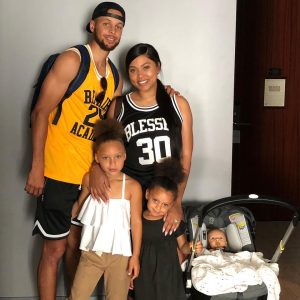 Her siblings Ryan Curry was born on July 10, 2015, and her brother Canon Curry, July 2, 2018. She shares a loving relationship with her siblings as she is the eldest and knows how to shower love for the young ones.
Television Appearance of Riley Curry
Even though she is just six years old, she is already a  star kid as well as an actress. She starred alongside her family, on the first episode of TLC 'Players Masters' in 2013. During the show, she got a custom designed playhouse built by the husband and wife pair, Tyson and Audy Leavitt. Since she was already the owner of the huge playhouse, her huge playhouse could put many other houses in shame as it was so beautiful.