Quick Facts of Caleb Landry Jones
Full Name

Caleb Landry Jones

Net Worth

$4 Million

Date of Birth

1989 /12 /07

Nickname

CLJ

Marital Status

Single

Birthplace

Garland, Texas

Profession

Actor
Caleb Landry Jones is an American actor and musician, better known as one of the best-supporting actors in Hollywood. Jones is making quite a mark in the entertainment industry by giving exceptional performances in the movie like, Get Out.
Apart from his acting career, he is also a musician and singer. Caleb and Richard Hudson formed a band and named it as Richard Jones. However, the fine combination of entertainment skills is rumored to be gay. Is it true? Well, know about his relationship status in the article below.
Who is Caleb Landry Jones? Bio and Career
Caleb was born on December 7, 1989, in Garland, Texas. Caleb Landry attended Richardson High School and used to perform in a number of school plays. He also revealed that he never got into big roles, as he never got the parts.
In an interview, he revealed about his school days, "So I grew up where everything was walkable, you could walk to the fire department, you could walk to the store, you could walk to go get ice cream—that kind of thing. You had to drive to get to the library." 
Also, see: German Businessman Ramtin Abdo Net Worth & All Sources of Income
Career Highlights of CLJ
Caleb started his acting career when he was just 16 years old. His first film was the Oscar-nominated movie, No Country for Old Men where he portrayed the role of one of the teenage guy. In addition, he made his small screen debut playing the recurring role of Jimmy Alder in Friday Night Lights. Also, he appeared on the two episodes of Breaking Bad. Later, Caleb landed on the role of a horror movie, The Last Exorcism and decided to move to Los Angeles.
When asked in an Interview by Mag, whether he came LA to become a great actor, he replied,
"I went out to L.A. to definitely make that a reality, rather than just feeling a hunch that I have.
But I knew somehow it would work, I knew that I had something. I don't know how to say it, but I knew just from watching movies that I love so much or actors that I love so much, that I was able to get to a similar place."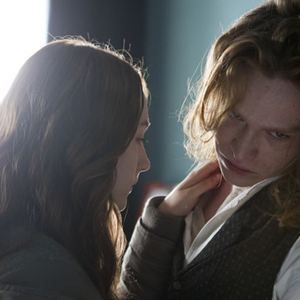 Caleb was right about his feelings as he certainly landed on the role of Banshee in X-Men: First Class alongside well-known stars Jennifer Lawrence, James McAvoy, and Michael Fassbender. The following year, he starred with the A-listers stars, Mark Wahlberg and Ben Foster in Contraband. Furthermore, his other acting credits are in the movies, Byzantium and Antiviral both thriller and fantasy.
Caleb Landry Jones's rose to fame when he did a thriller movie, Get Out alongside Daniel Kaluuya, Allison Williams, Bradley Whitford, Catherine Keener and many others. His role as Jeremy Armitage helped him to earn the Detroit Film Critics Society Award for Best Breakthrough.
CLJ Rumored To Be Gay: Is It True? Know About His Current Relationship Status
Caleb Landry Jones is very secretive about his personal life and prefers to keep everything under the wrap. Since he doesn't use any social media accounts, it is hard to find any pictures or information about his relationship. Many have mistaken about his on-screen romance to be real, such as with the Heaven Knows What co-star Arielle Holmes Harley. She revealed that Caleb made their relationship in the movie quite realistic. They were so real that their fans thought that they've started something in real life.
On the other hand, Caleb is rumored to be gay. With no girlfriend and affairs until now fans are speculating that he might be gay. But there has been no proper evidence to prove the rumor. Since he has never been spotted being intimate with any guy in public, it is completely wrong to call him gay.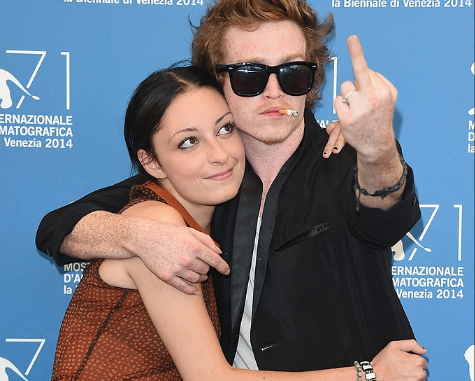 Despite being a secretive person regarding his personal life, he once shared that he was having problems with masturbating. The interviewer asked him about what made him inspired painting some frames he'd been hanging on the wall, Caleb replied, " It took great testicular pain to convince me to do it".
Explaining what causes the pain, he further added, "I was masturbating. Less than a week and it still hurt, so I went back to urgent care. And then, like an idiot, I had a lot of sex. I don't get a lot of sex, but I had a lot of sex. And then it kept hurting for another 15 or 20 days!". 
While we still don't know about Jones relationship status, however, his statement revealed that he is sexually active. His sexual orientation, however, is still unknown.
Also, read: Where Did Sheena Parveen Go? Her Net Worth & Career
How Much is Caleb Landry Jones' Net Worth?
The Breaking Bad actor has gathered a decent amount of net worth from his career. As of 2019, Caleb Landry Jones has a net worth of $4 million. He has played in numerous television series as well as in movies which helped him to collect the fortune.
Caleb is one of the busiest supporting actors in Hollywood. The actor has earned a lot of publicity as well as respect from his fans. He not only collects from his acting career but side by side he bags money from his professional career as a musician as well.