Gingzilla is a multi-award winning international cabaret and performance artist. She is also a TV personality, singer, model, and MC. A lot of curiosities surrounds the bearded lady's sexuality, real name, and appearance.
Besides her successful career, who actually is the bearded lady on the stage? Let's find out everything about her career, name as well the story behind being Gingzilla.
Who is Gingzilla? Know Her Real Name And Sexuality
The bearded lady Gingzilla's has kept fans in confusion, regarding her name and sexuality. The hidden identity appeared on America's Got Talent 2019 as well as in X Factor UK 2018, under the name Gingzilla.
Gingzilla is a drag queen from Australia whose real name is Ben Hudson.
Know About Her Professional Life
Before adopting the identity of Gingzilla, Ben had already made a name for himself on his real name. He was a finalist in the International Cabaret Your Theatrics Competition in 2014.
America's Got Talent Season 14 Audition
Most recently, she appeared on the AGT's stage in a beard, chest hair, face full of make-up, curly blonde hair, and in high heels. She has a deep baritone voice, making the judges dance in their feet.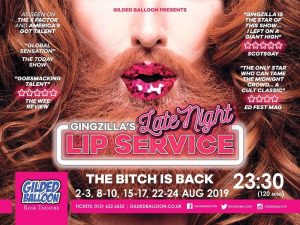 In the Audition, she sang 'She's a lady' and the AGT's judges Simon Cowell, Howie Mandel, Gabrielle Union, Julianne Hough all voted 'Yes'. Howie Mandel said, "she's so entertaining", while Simon Cowell stated that this type of acts is why "we exactly created the show".
On the other hand, Gabrielle Union spoke in enthusiasm:
"Ging, I'm here for the whole thing. You should get used to this kind of reaction."
While Julianne Hough was also impressed by the bearded lady's performance and said
"I, mean, I can absolutely see you in Vegas right now, owning a show. I would come every weekend".
Gingzilla In X Factor UK 2018
Prior to America's Got Talent, she had also appeared in the X Factor UK in 2018. There she sang The White Stripes "Seven Nation Army". She earned the approval of judges Simon Cowell and Robbie Williams who also offered to have a duet with him.
After the X Factor performance, she responded to the questions of audiences about her experiences in the X Factor, she said,
"I confuse people, I blur the line. And that is scary for most people".
She further added,
Gingzilla makes them question their own gender and sexuality, and how they are perceived. My embodiment of the extremes of gender — very sensual and feminine while also being macho and grotesque — elicits a visceral reaction."
Apart from her singing career, she also runs a show of herself named as Gingzilla's Late Night Lip Service.
Why Did Ben Hudson Became Gingzilla?
When asked about the story behind Gingzilla, in her pre-taped video, she explained that:
"When I was growing up, I had so many people being intolerant to me. Gingzilla to me is absolute freedom. I get to be so much bigger, so much more passionate".
She further added,
I've used all of the things that I used to be bullied about — being too tall or being ginger, being effeminate — and I've turned the dial up to 1,000. Gingzilla is like the love child of Jessica Rabbit and Chuck Norris."
Besides all, she is a talented personality and is making a name for herself in the entertainment industry. The 7 feet tall bearded lady is winning the hearts of millions around the world through her talent.