Quick Facts of Eric Chien
Full Name

Eric Chien

Nickname

Eric

Marital Status

Single

Birthplace

Tai Pei, Taiwan, China
Eric Chien is a famous Taiwanese Magician who has won Asia's Got Talent season 3. The famous Magician migrated to America and started to show magic at the year of 16. Further, the 26 years old Eric has achieved so much of fame at an early age. Read more to know about this famous magician.
Eric Chien Bio
Taiwanese Magician Eric was born on 1993, Tai Pei, Taiwan, China. He moved to America along with his family when he was 4 years old. Eric spent his childhood in Taiwan. Further, he hasn't disclosed his parents, family, and education. Currently, Chien is living a luxurious and joyful life in Houston, Texas.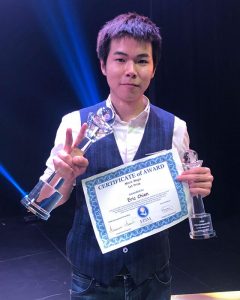 Eric Chien Professional Career
Eric has won many awards and trophies in his early life. Besides, Asia's Got Talent Chien has also won the FISM Magic World Championships. Chien said he was very nervous before the show that he could barely eat or sleep for 5 days.
After I was done, I did cry a little because it was really emotional because it's my first time competing on such a big stage.
Eric Chien Asia's Got Talent Journey
Chien has won Asia's Got Talent season 3 and entered America's Got Talent season 14. While performing at the stage of Asia's Got Talent  Chien stated that he wasn't comfortable performing in the mass. He mentioned:
When I started fiddling with magic back in high school, I loved creating my own tricks. That got me a job as a magic consultant, creating materials for magicians." The magician confessed on camera that he was very surprised to win Asia's Got Talent.

Eric Chien's Asia's Got Tallent winning moment
Source: Fashion Chandigarh

He said, "I was really surprised that I got into the top two because I doubted myself. I don't know why I keep doubting myself, but I shouldn't. For my whole life basically, I doubted myself for everything that I do. Winning this gave me so much confidence in myself now."
Eric Chien America's Got Talent Audition
While auditioning for America's Got Talent Chien opened up about his challenges in school saying:
I was the only Asian in school and it was really tough for me. I would get beat up in school, then I would transfer to another school I think four or five times. When I started performing close up magic, it became a really good way to make friends again. When I'm performing on stage, I feel more confident in myself and more relaxed."

https://www.youtube.com/watch?v=p3uMK5t2I7k
Eric Chien Net Worth
While talking about Eric's Networth, he has received $100000 for winning Asia's Got Talent. Similarly, Chien will get another $1000000 if he wins America's Got Talent season 14. So, he is earning massive networth from his career.