A stunning beachside wedding! What else could be more romantic than this? Yes, we are talking about Bob Saget and his longtime girlfriend Kelly Rizzo's marriage.
The 39-year-old TV host exchanged her wedding vows on Sunday. The event was attended by many top celebrities and was definitely lavish. Now, let's dive into this beautiful event and explore more about the marriage.
There's love everywhere! Let's dive into Kelly Rizzo's Wedding
Kelly Rizzo and Bob Saget tied the knot on October 28, 2018, in an extravagant ceremony. The event was held at Shutters on the Beach in Santa Monica, California. Bob Saget is 62-year-old and the difference of age between the beautiful couple is not an issue for them.
Saget posted the picture of his wedding day on his Instagram and expressed his happiness through a caption.
"Okay, so we went and did it. And damn are we happy".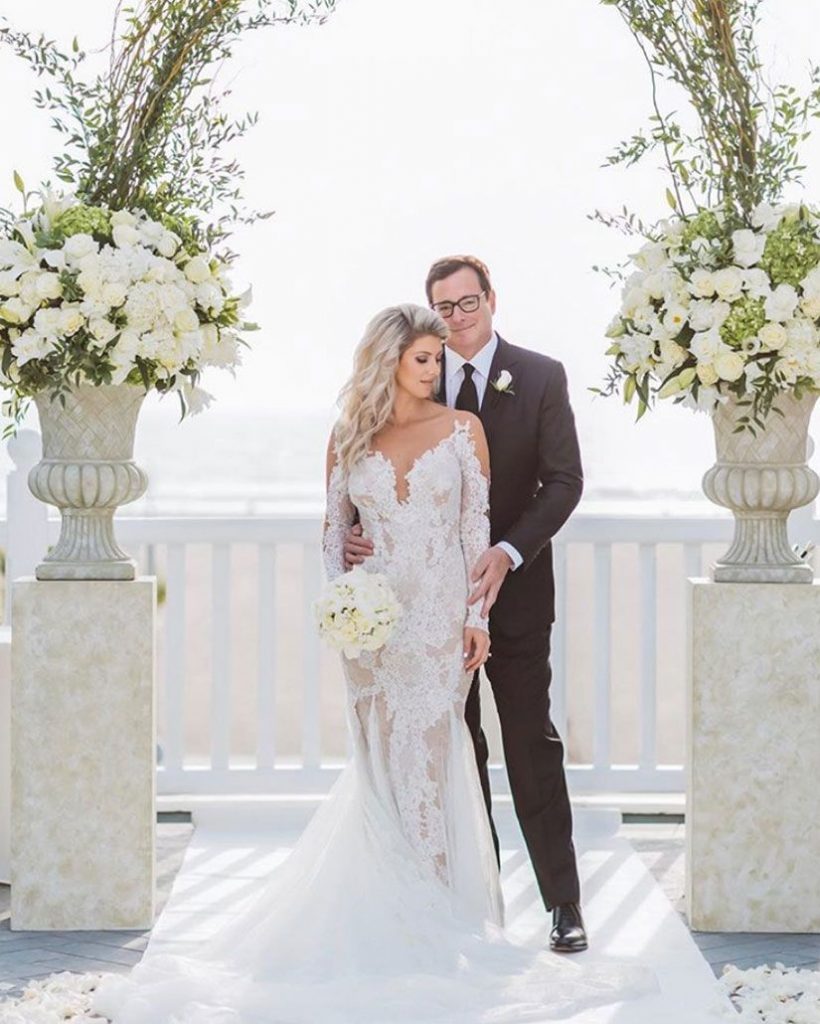 The lovebirds looked very happy in the picture and why not? After all, it is their biggest moment which they will remember forever. The Full House actor was married before with Sherri Kramer from 1982-1997.
Kelly Rizzo and Bob put their engagement ring on each other finger in November of 2018 after dating for so many years. The wedding was a special day for both of them and they looked absolutely ravishing in a special outfit.
The Outfits and Decoration
Bob Saget entered in his special day wearing a classic black suit making him look very handsome. On the other hand, Kelly looked even more gorgeous in her stunning sheer lace gown which was designed by Pronovias.
The event was surely not over the top according to their friends but it was definitely lavish. After the wedding, the pair gave a huge reception which turned into a dance party. As they say, sometimes keeping it simple makes a huge impact and that was the exact case on their marriage event.
The ornamentation around the venue was kept very simple, painted with flowers and black and white table settings. It became quite a big celebration and Kelly Rizzo captioned on her Instagram as the best day of her life.
Want to more about Bob Saget new wife, Kelly Rizzo? Then find more o this link.
Celebrity Attendance at Kelly's Marriage
The stunning pair said, "I do" in front of the actor Jonathan Silverman who officiated the wedding. Jonathan completed his important task together with his wife Jennifer Finnigan. After the wedding he said,
"I had the extreme honor of officiating the beautiful wedding of my beautiful friends this past Sunday."
Besides Jonathan, the wedding was attended by his co-stars such as John Stamos, Dave Coulier, Lori Loughlin, Mossimo Giannulli, Candace Cameron Bure, Jodie Sweetin, Andrea Barber, Josh Peck, and Jeff Franklin. Furthermore, John Mayer also attended the wedding and said congratulatory words to the couple.
The Proposal…
Bob Saget and Kelly Rizzo were watching Stranger Things when Bob did something unexpected. According to Bob,
"We were watching Stranger Things on the iPad. And then I got up to go to the restroom, and I opened the safe and I took out a ring that I had been hiding for four days and I got on one knee.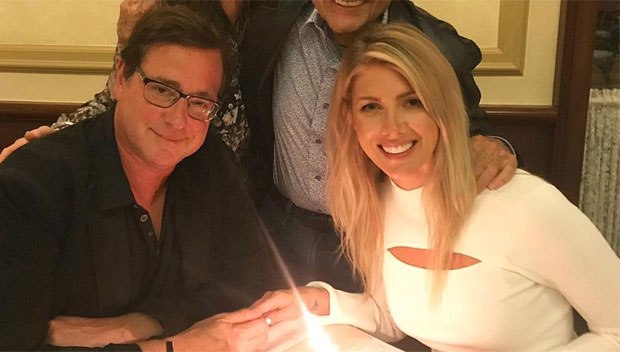 Both of them got very emotional and after Kelly said "Yes", they went out and party with their friends.