Not every story has a sweet start. Some relationship blooms from the very unconventional situation and takes an unimaginable direction. Likewise, Hulk Hogan and Jennifer Mcdaniel started their relationship in a controversial way but the couple passed all the odds and here they are happily married together.
To know more of the Hulk and Jennifer bittersweet love story gets your popcorn ready cause guys the details gonna shook you.
Hulk Hogan's Past Relationship
Hulk's controversial news in no new for the audience as Hogan often steals the spotlight with his scandalous news relating his divorce, mistress and also a girlfriend. Yes, guys, Hogan was once a married man. Hulk married Linda Hogan in 1983. The pair restrain their married life for 26 long years and in 2009 they finally dropped the bombshell with a divorce.
The couple went through a lot of ups and downs during their marital life. Hogan also had a mistress while he was still a married man. The main reason for Hulk and Linda's spilt was Hogan's extramarital affair. Moreover, his sex tape became one of the biggest things on the internet in 2012.
Also Read: How old is Anastasia Karanikolaou? Know about her Parents and Relationship
Hulk Hogan & Jennifer Mcdaniel Married Life
Right after the divorced Hulk moved on from Linda to a new woman as he was never in love with her. Isn't it quite socking guys? 26 years of marriage and after a year Hogan started off his married life with some other woman. Hulk Hogan and Jennifer made it clear that age is just a number when you are in love.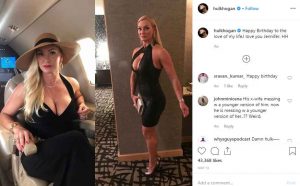 Hulk Hogan is 18 years older than Jennifer McDaniel. She was 35 years old when she married in 2010, while Hulk was 57 years old. Due to the huge age difference, Jennifer is often portrayed as the gold-digger by the world. But surprisingly, she has been with him throughout his thick and thin.
Also Read: Jensen Ackles Net Worth around $14 Million Dollars, Find out his Sources of Income
In 2012, McDaniel stayed by her husband's side when his sex tape with another female was leaked. By tattooing his birth name, Terry has even shown her love for him on her left hand. Often the tabloid magazines show them shopping together.
Before Jennifer Mcdaniel married Hulk Hogan, the wrestling icon, she was a make-up artist. Even after 9 years of marriage, they haven't failed to show love and concern for each other. Despite having numerous ups and downs, Mcdaniel has stood by his man side.
If you want other celebrity news we suggest you visit Allstarbio.