Quick Facts of Sharon Lee Backof
If you're a bibliophile and are interested in mystery, sci-fi, and fantasy then books of Sharon Lee are something we would like to recommend to you! Sharon Lee is best known as the co-author of Liaden universe novel, alongside her husband.
It's time we provide you information about this American author. Keep reading to find out more about Sharon Lee's work.
Early Life
Sharon Lee was born on September 11, 1952, in Baltimore, Maryland as Sharon Lee Backof. Lee went to Parkville Senior High School and graduated in 1970. Later, she attended the University of Maryland, Baltimore County.  In the late 1970s, she worked as an Administrative Assistant to the Dean of a school.
The information about the 67-year old author's parents and siblings is not provided to the public yet. But, what we do know is Sharon has a sister and her father died of cancer. Moreover, Sharon Lee is happily married for over 37 years!
Career
From the time she started working to this day, Lee has worked and changed a good number of jobs. She worked as an advertising copywriter, a freelance reporter, photographer, book reviewer, call-in talk hostess, etc. In August 1997, she worked at Science Fiction and Fantasy Writer of America as it's president. This was a breakthrough in her career as an author.
Here is an interview of Sharon Lee and co-author/husband Steve Miller
A Matter of Ceremony (1980) was her first professional fiction. While her most famous work to this day is the books in the Liaden Universe, which she wrote with co-author Steve Miller. Sharon and Steve have also co-authored several other books. Some of Lee's works are Barnburner Gunshy Carousel Tides Carousel Seas. She has also released several audiobooks as well as short stories.
Awards
Lee has received several awards for her work as a writer. Some of the prestigious awards she won are the Hal Clement Award for Balance of Trade. She won SF Site Reader's Poll for Dragon Ship Ghost Ship. Also, she received the Prism Award for  Scout's Progress and more. Moreover, she has also been nominated for various other prestigious awards.
Sharon and her husband Steve have been honored as Guest of Honor or Special Guest for several science fiction conventions like SiliCon, SheVaCon, Balticon, etc. Her books have is consider as bestsellers in the US as well as other countries.
Also Read: Anna Shaffer
Husband-Steve Miller
Sharon Lee is happily married to her husband, Steve Miller for 39 years! The couple first met in 1976 and after dating for a short time they tied the knot. They got married in 1980 and relocated to central Maine, currently, they are living in Waterville, Mane. She likes the city so much that five of her novels are based on the set of the very city.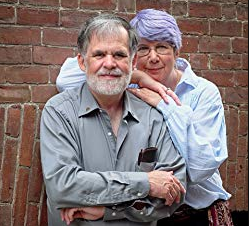 Sharon admits being an introvert. She and her husband have written over 24 novels together. However, Sharon and Steve do not have any biological or adoptive children. But what we know is that they are great feline lovers.  They have adopted 3 cats named, Sprite, Belle, and Trooper.
Also Read: Bobbi Brown
Net Worth
The sci-fi author has not publicly revealed her net worth. But as per some source, Lee and Miller share the net worth ranging between $500,00-$700,00. They have published more than 23 novels together and have sold around 1000 copies of them.
Sharon and Steve actively take part in donation programs and welfare programs for cats and kittens. They donate and raise donations to buy cat food.  They are also a member of the National Carousel Association.