Irina Shayk and Bradley Cooper Break up after 4 years of Relationship?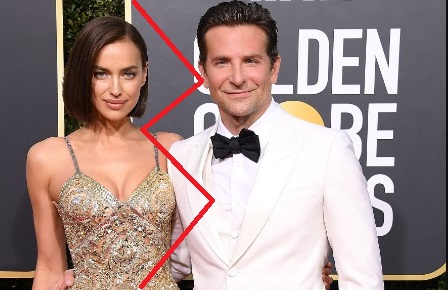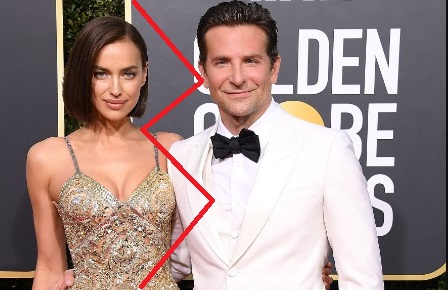 Are you shocked looking at the heading? Don't worry, guys we are two. One of the most beautiful couples in Hollywood Irina Shayk and Bradley Cooper have reportedly parted their way out. Everybody wants to know what happened between the two and who was the reason behind the spilt. Well, many Irina and Bradley shippers even claim Lady Gaga as the third wheeler between the couple.
If you are one of the fans and wondering the reason behind the couple's spilt then we suggest you read the article. Cause hey guys, here we have brought you all the reasons behind the couple's split.
Irina Shayk's Past Relationship
Just like any other celebrities, Irina also has a handful of dating history. Shayk first dated Rob Bourdon from 2007 to 2009, but the couple spilt after dating for two years. Then Irina didn't care about the age difference when she hung out with Sepp Blatter. However, it was just a rumor. After that, she dated Arthur Sales for a few months, and they also couldn't work out and spilt the same year.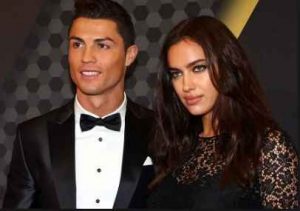 Irina found love in the form of Cristiano Ronaldo in 2010. The couple dated for five long years. The couple reportedly met through their Armani Exchange campaigns. Ronaldo and Shayk also appeared together on the May 2014 cover of Vogue's Spanish edition. After a five-year romance with Cristiano Ronaldo, the next guy who came along for Irina Shayk is none other than Dwayne Johnson. It was a rumor. Then, in April of 2015, Irina and Bradley Copper were seen together.
When Bradley Cooper and Irina Shayk Met?
Both the couple had a broken heart when they met in 2015. After two years together, Cooper and his long-term girlfriend Suki Waterhouse broke up because he was willing to start a family and she wasn't. On the other hand, Cristiano and Shayk finished a five-year of the relationship on friendly terms and wished each other the best. At the time Cooper was rumored to be dating Naomi Campbell; however, Shayk and Cooper's appearance squashed all those rumors.
Were Irina Shayk and Bradley Cooper married?
The 33 years old Russian-born model, Shayk, and Actor and director, Cooper, 44 years old didn't care about the 11 years of age difference while they were together. The pair first walked their red carpet in March 2016 and attended the L'Oreal Red Obsession party. Ever since then, the couple was along until now.
The answer to this question is not as easy as we would have liked it to be. Shayk began wearing an emerald ring on her left hand in December 2016, suggesting that the couple might have been already engaged. Ever since then she wore the ring, but their marital status has not been confirmed by either Cooper or Shayk.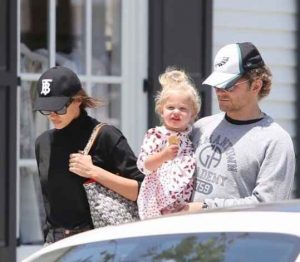 Yes, together Cooper and Shayk have one daughter Lea De Seine in March 2017 together, but that doesn't confirm their marital status. In 2016, Shayk secretly walked Victoria's Secret Show while she was pregnant. She was wearing a red ensemble during the show.
Is there a serious Fling between Bradley Copper & Lady Gaga?
When it first released, A Star is Born stole the box office with flying colors. But the apparent chemistry between Gaga and Cooper was the one thing people couldn't stop talking about. The two performed in the film love interests, but individuals were persuaded that their bond was too powerful to be an act. It chemistry between the couple got more convincing in their Oscar performance.
Gaga and Cooper, despite what fans believed, assured that there was no pure chemistry between them in real life. Gaga explained Jimmy Kimmel, "From a performance perspective, it was so important to both of us that we were connected the entire time." But she vehemently denied any romance between the two.
Why Bradley Copper & Irina Shyak Parted their ways out?
Just when fans overwhelmed their fantasies that Gaga and Cooper could end up together, something fresh broke up about Cooper and Shayk. Some source revealed the couple started having some serious relationship problem. According to E! News, the couple has been struggling in their relationship for a while now. A source told E! News that "They want to stay together for their daughter, but neither of them is very happy."
The source also said that what kept them together is their long history and their daughter, and they are attempting to discover an agreement that works best for them. So, the couple chose to part their ways away from each other in a very subtle way. Both of them are taking the split in a straightforward form as Irina is already making her appearance after the spilt with Copper.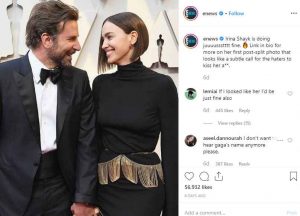 So as the Bradley as he was spotted out days after his split from Irina Shayk looking all upbeat and chill. As per E! News everyone has been taking notice of Irina Shayk's cheeky post-split Instagram post, including Lady Gaga's ex Christian Carino as well and they say, Irina is doing just fine even after the breakup. The most interesting fact is, Copper hasn't deleted any Instagram picture of Irina. Does this mean there is a hope of them getting back together? Or Are they also going to be one of the Once upon a time Hollywood couple in the industry? Let's let time decide what their future holds.