If you are a constant news viewer, then you must be familiar with the name Amy Robach. Robach is a TV presenter and national correspondent who works on 20/20 Friday nights as a co-anchor. Her co=anchor is none other than David Muir who replaced Elizabeth Vargas who left the show in May 2018.
But this is not the first rodeo of Robach; she is a former domestic correspondent for NBC News, former co-host of NBC's Today's Saturday edition, and former anchor for MSNBC. If you want detailed information about Amy and her personal life, then we suggest you read the whole article.
Who is Amy Robach husband?
After the sweet meeting at a book party in 2009, Robach instantly fell in love with Andrew Shue. The couple dated for quite a sometime and then in 2010, they tied a nuptial knot in the presence of their family and friends. Both of them spent a year separating themselves from their former spouses and dating after being set up by friends.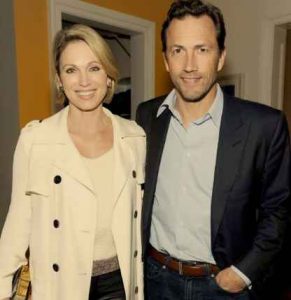 The most interesting facts is, the pair married on Amy's 37th birthday February 6, 2010, near the Hudson River at The Lighthouse at Chelsea Piers. In the same way, there seems to be no bad blood between former partners as both Shue and Robach former spouses attendant the wedding. Amy's husband Shue, 42, was married to Jennifer Hageney, a floral designer, while Robach former husband is  Tim McIntosh.
Does Amy Robach and her Husband Share any Children?
Well, both Amy and Andrew have children from their first marriages. Robach's marriage to McIntosh has two daughters named Ava who was born in 2002 and Analise born in 2006. On the other hand, Shue has three children from his prior marriage named Nathaniel born in 1996, Aidan born in 1999 and Wyatt born in 2004.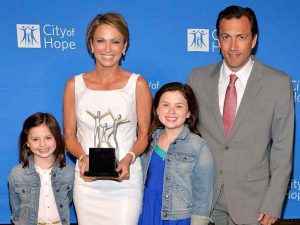 The couple is living a very blissful life without the rumors of any separation and extramarital affairs. They are an ideal couple of goals for many youngsters. Despite all the odds that life threw at them, failed marriages, they stood tall and faced all the hurdles together. The couple doesn't share children together, but they have vowed to raise all the children together without any relationship issues.
Amy Robach's Cancer Took a Toll on her Married life?
It did actually in one of the interviews she has explained briefly faced all the hurdles and physical pain from the breast cancer. Andrew being a loving husband, he always remained beside her during the hard times. Although the couple started having huge fights, they went on a couple of therapy to save their relationship. Which indeed helped a lot. As for now, Amy is living a disease free and happy married life with her husband and kids.